My John Deere

John Deere 240 Garden Tractor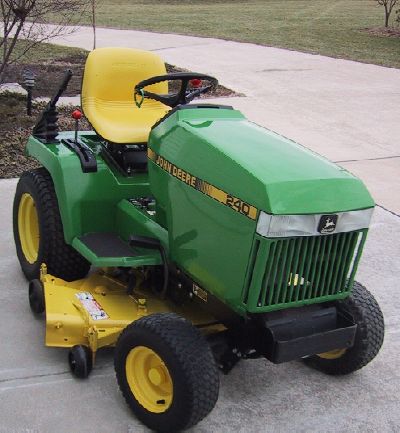 48" 3 blade mowing deck (recently repainted). 32" turning radius, rear tires new in 1995. Everything works great!
Engine Photo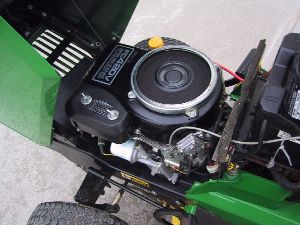 17 Horse Power Kawasaki engine, over-head valve with full pressure lubrication
system (oil pump vs static bath) Brand new battery. Oil and filter changed every 50-60 hrs of use.
Lubed every spring before mowing season.

My John Deere Testimony
I have recently purchased a John Deere 425 AWS garden tractor w/ 60" deck, so I need to sell this machine.
It has been my faithful and dependable lawn mower for 5 years. It is a great machine but I mow about 3 1/2 acres now and
I needed a larger tractor to speed up my cutting. I'm asking $ 2,100 O.B.O for this machine and I based this price
on identical JD 240's found on the (John Deere ) machinefinder.com web site. The average price I found
for a 17 h.p. 48" deck 240 was $ 2,165 and most of them were not in as good as condition
as my tractor.
If youv'e never owned a John Deere and your considering buying a lawn or garden tractor don't even waste
your time or money buying any other brand: John Deere's are the BEST! All the Sears, MTD, Cub Cadets, etc... don't even
hold a candle to JD's. Deere's are the Mercedes Benz of tractors! Most of the other brands start falling apart
the first mowing season. If you need a great lawn tractor that will still run 20 years from now, do yourself a favor and spend a little more on a Deere. From people I've talked to over the years I have only heard of one other brand that compares to
J.D.'s and that is Kubota's, they also last forever. Warning: owning a John Deere can lead to cultish behavior similar to owning
a Harley or a Martin guitar. I love my dear Deere.