000-28 Anniversary

Back to Guitar Collection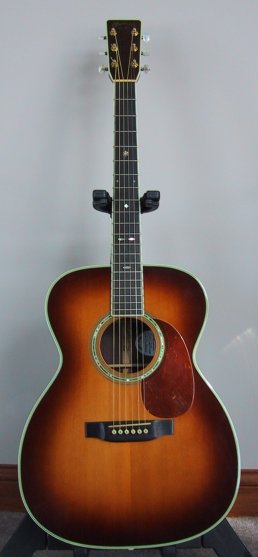 1983 150th Anniversary Custom 000-28 Sunburst
150th Anniversary Label
(below)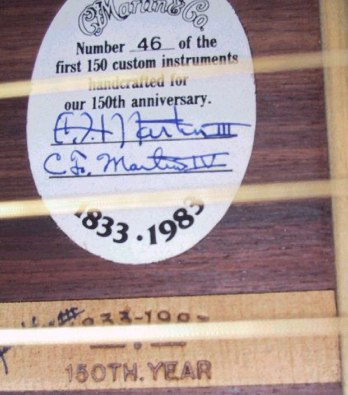 The elliptical 150th label only appears on the 150 anniversary Custom Shop
Martins built in 1983. These labels were individually signed by C.F. Martin III (deceased) and
C.F. Martin IV (current C.E.O of the Martin Co.)
In addition to the label you may notice some writing above the 1833-1983 woodburn stamp, this is the signature
of C.F. Martin III. As a personal favor, Mr. Martin signed this backstrip before the instrument was built. The backstrip was then tracked
and eventually matched back to this instrument during production. The backstrip was also autographed by C.F. Martin IV. There are very few
Martin guitars that have the signatures of both C.F. Martins. Mr. Martin (CF III ) as a favor would occasionally sign backstrips
for the (then) current employees of the Martin Guitar Co.
Neck block brass serial number plaque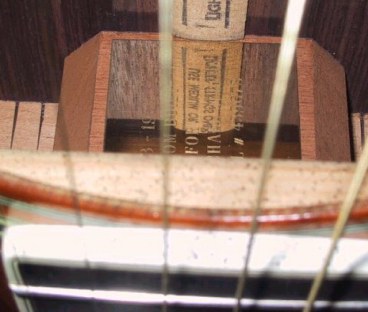 The brass plaque that is affixed to the neckblock of this guitar contains the
manufacturer's serial number. It also reads "Custom built for David Jeffrey"
Rearview of headstock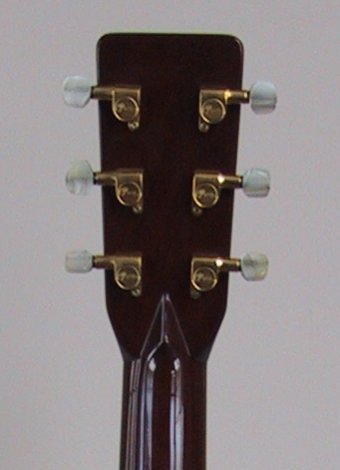 You may notice the slightly rounded corners of the headstock from this rear view. This was common during the
60's and 70's on many Martin guitars. By comparing older Martins to newer Martins many people have discovered
that some models seem to have a more squared off looking headstock. The reason some models have a rounded look is
the craftsman used a steel fixture for marking the cut-out of the headstock. Over time the headstock jig wore down with use and the
craftspeople would run the marking tool around the headstock outline. This caused the "corners" to soften and the
subsequent mark and cut out of the headstock gradually took on a softer shape. This is a contrast to Martins built in the 30's and 40's that usually
have what has become known as a "square" headstock.
000-28 and hard shell case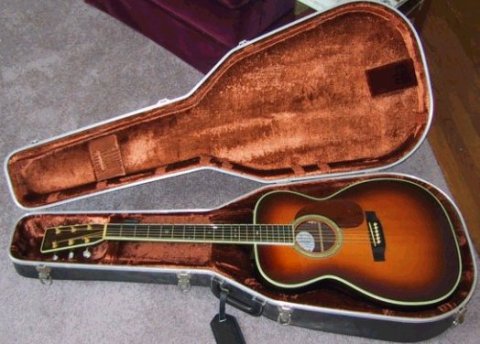 Tone is very subjective to personal taste but this Martin has an exceptional sound. It was built with a tight grained Sitka spruce top and
scalloped bracing. It also has a maple bridge plate. It is extremely well balanced with strong and long sustain. Low and mid-range tone is well balanced
with the treble tone and over all volume is even up and down the fingerboard. It is a true 000 Martin guitar. The tone of the instrument
is similar to the current Eric Clapton 000-28 model with an (intentionally) diminished bass. This is more of a straight ahead fingerstyle instrument as
compared to a "rock" or "folk" acoustic. It is definitely not a Bluegrass instrument, not that there is anything wrong with that!
The condition of this instrument is very good to excellent. This guitar (like most Martin guitars) has a nitro cellulose lacquer finish. Over time lacquer takes on a yellowed patina and this adds to the rich color and appearance of the wood. The lacquer patina also then causes the white
body binding to appear aged. The bridge of this instrument was shaved down back in the 1980's and during that work the repairman put a small 1/16th
of an inch dent in the top which was repaired (the dent does show). Other than the small top dent, there are no other
dents or scratches on this guitar. The instrument has not been played a lot and the frets are in excellent shape. The instrument does have
some very minor lacquer checking, this resulted from the lacquer formulations used in the 1980's. The guitar
has not been subjected to any strong temperature changes and has only been used in the recording studio.

1983 C.F. Martin 000-28 150th Anniversary Model features true 000 scale vs. common OM scale length. Ebony fingerboard and bridge. Bone nut. WBW bound fngrbrd, headstock and body. Abalone rosette and 000-42 snowflake fngrbrd inlay. "Gibson" style sunburst top. Gold Schaller gears w/pearloid buttons. Tortoise style pickguard under the finish. Factory brass plaque serial number stamp. Original 640 case. Original paperwork. Condition: very good to excellent. Instrument has one small 1/16th " dent on top, minor lacquer checking (common on early 80's lacquer instruments)
History of this instrument: In 1983 Martin stamped the inner back strip of their instruments with a "wood burn" that reads 150th anniversary. This stamp was applied to all instruments produced by Martin in 1983. These instruments are not the "official" 150th anniversary Martins, they are standard production guitars with a woodburn mark. To celebrate their 150th Anniversary Martin decided to offer 150 Custom Shop Anniversary guitars. These 150 guitars are the "official" Anniversary Year Martin instruments. There are no two identical models since they were all Custom Shop models. These 150 guitars have a white elliptical label on the inside back of the guitar (see photo) and they are sequentially number 1 of 150, 2 of 150, etc… My guitar is number 46 of this set of 150 guitars. In addition, my guitar is hand signed on the backstrip by C.F. Martin III (now deceased) and C.F. Martin 4th (current C.E.O). The elliptical label is also signed by both C.F's. This guitar shares a rare place in guitar history since no other American guitar company has yet to celebrate a 150th anniversary, it is truly one of a kind.
Back to Guitar Collection