Roland Midi Guitar

Back to Guitar Collection

I put about 2,400 bucks in this rig and use it about once a year. It is time for me to buy something else but
I can't until this baby finds a new home.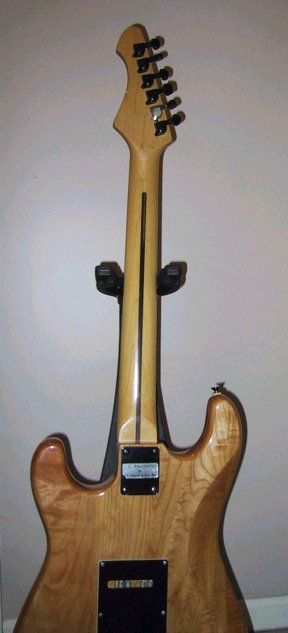 A nice shot of the back of the guitar that shows off the solid hard rock maple body. One of the original tuning gears was replaced with
a chrome Gotoh gear (it stands out next to the black gears)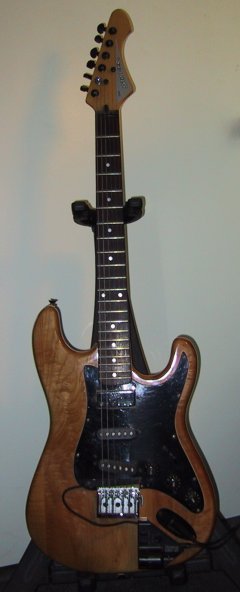 The guitar is a C.F. Martin Stinger SSX model (earlier version of the SSX on this site). It features a solid hard rock maple body, maple neck and rosewood fingerboard. The neck profile is very similar to a Fender Strat. The frets and neck are in great shape with very little wear. The body is in good shape with some very minor dings and scratches but it has not been refinished or altered.
The finish is clear gloss.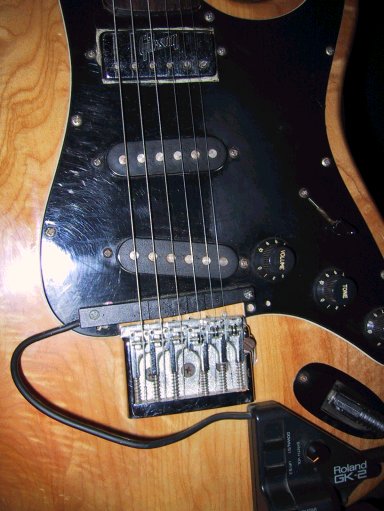 A 1970 era Gibson mini humbucker was retrofitted to replace the neck (strat style) pick up. This was done to warm up the electric sound of the guitar in addition to adding to the versatility of the instrument. The pick up was surrounded with a non-vibration isolation putty to prevent additional resonance. The over-all workmanship of the repairwork is not masterful but it is very functional. It looks a little like something Eddie Van Halen would have done! The original tremelo bridge was replaced with a Schaller solid bridge (see photo).
This was done to improve the midi pickup tracking capabilities. The tremelo cavity was filled with wood (removeable).

The GR-50 Roland Midi guitar brain. This is the unit that actually generates the midi signal and it is the sound module for the guitar.
The guitar plugs into this unit, the midi pick up on the guitar sends info to the GR-50 and it is then converted to a midi signal. The brain contains
all of the standard midi sounds such as piano, flute, organ, strings, etc... Bottom line, play the guitar and it can sound like a flute! The brain has
around 128 sounds built into it and it is also programable. It also has a midi out port that can be plugged into any other midi device. I used this instrument
with my midi studio and sequencer software (Cakewalk).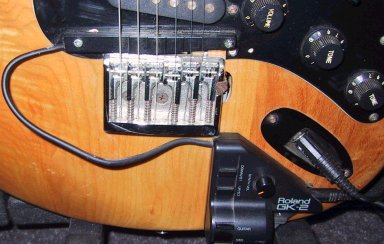 The guitar controller (see above) allows the player to switch between guitar only, midi only or guitar and midi sound
combinations. The guitar by itselfs sounds great when played through my Mesa Boogie Mark II. The "midi" guitar sounds unbelievable
when hooked up to my MU-100 Yamaha sound module. It is a rush to play this guitar and hear a "Hammond" B-3 coming out of the
sound system. The addition of the Schaller bridge leaped this guitar forward in the area of midi tracking, it tracks great!
This guitar would not win a beauty contest but it is extremely playable and dependable, which was my primary concern.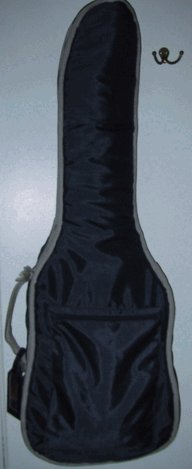 Nylon gig bag for the guitar

Back to Guitar Collection